BALTIC ORANGE & CINNAMON KRINGLE BREAD
Ingredients

170g

White Spelt Flour


130g

Wholegrain Spelt Flour


half a teaspoon tsp salt
160ml lukewarm, whole milk
1 envelope of active dry yeast (7g)
30g melted butter - cooled
1 egg yolk
1 tbls caster sugar
Finely grated zest of 1 large orange
half a tsp orange flower water (optional)


FILLING

50g butter, melted and cooled
4 tbls caster sugar
3 tsp cinnamon
Method

Preheat oven to 220c/400F for 20 minutes before baking.

In a medium-sized bowl, combine the flour, salt, yeast, orange zest and sugar and mix well. Combine the milk, egg yolk, orange flower water - if using - and melted butter in a bowl. Add this liquid to the dry mixture. Mix with a wooden spoon. Transfer to lightly floured work surface and knead the dough for *5minutes until smooth and pliable. Place the dough in a lightly oiled bowl and let rise till double in size in a **warm place - about 1 hour.

Transfer risen dough to floured surface and roll out to 1cm thickness to form a rectangle 50cms/20ins X 36cms/14ins approx. Spread the melted butter across all of the dough, and sprinkle over the sugar/cinnamon mixture, but reserve 1tbls of it for later. Roll up the dough into a fairly tight log. Now cut in half length-wise. Keep the exposed cuts showing and twist the two halves together. Form into a round/wreath (kringle) shape, pressing the joins together to hold the round shape.

Transfer to baking tray covered with non-stick parchment, or just grease the tray. Brush the wreath with some melted butter and sprinkle with the reserved tablespoon of cinnamon/sugar mixture. Leave uncovered in a warm place to reprove for 30 minutes. Bake for 30-35 minutes until golden brown. NB Reduce the oven temperature to180c/350F after 5 minutes. Allow to cool on a wire rack.


DECORATION (OPTIONAL):
30g icing sugar, orange juice, as required. Mix the sugar and juice together to a fairly thick consistency. Drizzle it over the cold Kringle. You could also add some chopped orange peel if available.Or simply leave it without.

*The gluten in spelt flour is more fragile than in wheat, so spelt requires less kneading time.

**'Warm proving is fine and will produce a good result for breads generally. But for more indepth and complex flavours,'cold proving' is best. So, for example, you could make a dough in the morning, finish and bake it in evening - allowing a cold prove of some 6 -8 hours. Artisan bread-making is usually done over 2-3 days of 'fermentation', especially with sourdough. Alex Gooch is a fine example of this tradition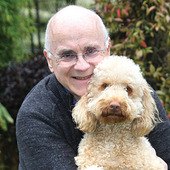 Kindly Donated by
Brendan Lynch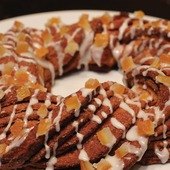 CLICK TO ENLARGE +