BANANA BREAD
Ingredients

300g ripe bananas
150g sugar
2 whole eggs
75g spelt flour
50g flour
2.5g salt
2.5g bicarbonate soda
60g ground walnuts
25g melted butter
Method

Mash up the ripe bananas.

Add the sugar and eggs and mix well.

Add all the flour, salt, bicarbonate of soda and the ground walnuts into this mixture.

Mix and add the melted butter.

Line a baking tin with parchment paper, add the mix and bake at 180C for 15-30min.

Kindly Donated by
Angela Hartnett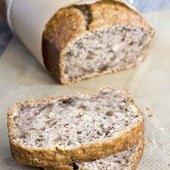 CLICK TO ENLARGE +