BORLOTTI BEAN SOUP WITH SPELT
Ingredients

160g

Pearled Spelt


Extra-virgin olive oil
1 carrot, finely chopped
1 onion, finely chopped
1 red onion, finely chopped
1 small red pepper, de-seeded and finely chopped
1 celery stalk, finely chopped
1 tablespoon tomato paste
Rosemary and Sage leaves, to garnish
Salt and freshly ground black pepper


FOR THE BEANS:

500g fresh borlotti beans (if not 100g dried beans, soaked for 24hours)
1 celery stalk
4 garlic cloves, crushed
1 small bunch of sage
2 tablespoons olive oil
Method

Cook the beans in a large pot of water with the vegetables, oil and adding the herbs tied together in a bouquet garni. Bring the pan to the boil, skim the foam and turn down to a gentle simmer. Cook for an hour or until the skins of the beans are soft. Season to taste.

Heat some olive oil in a small pan and add the carrot, the onions, the pepper and celery. Cook for 5-10 minutes until the vegetables are soft but not coloured, then add the tomato paste and three-quarters of the drained cooked beans (keep the rest on one side). Cook for another 20 minutes.

Put into a food processor and blitz until smooth.

Put back on the heat and add 500ml of the liquid from cooking the beans (make it up with water if necessary) and bring back to the boil.

Rinse the spelt and add to the pan. Turn down the heat and cook for about 30 minutes, stirring all the time, as the spelt will tend to stick to the bottom of the pan and thicken the soup; so check and, if necessary, add more water during cooking. When the spelt is cooked, it will have swollen to about twice the size of a grain of risotto rice and be very soft. The soup should be not too thick.

Add the reserved beans, season the soup and serve drizzled with some more extra-virgin olive oil and finished with chopped rosemary and sage leaves, and some freshly ground black pepper.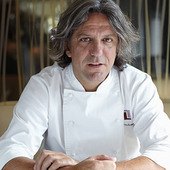 Kindly Donated by
Giorgio Locatelli
Made in Italy - Giorgio Locatelli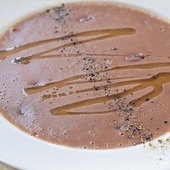 CLICK TO ENLARGE +