BRAISED RABBIT WITH FENNEL & CIDER CREAM WITH ORGANIC SPELT & RED CABBAGE RISOTTO
Ingredients

2 tbsp

White Spelt Flour


2 tbsp rapeseed oil
2 young skinned rabbits
150g bacon lardons
2 medium onions
2 fennel bulbs
3 dessert apples
3 sprigs rosemary
1 bay leaf
500ml cider
4 tbsp low-fat creme fraiche or double cream
1 tbsp cider vinegar


SPELT & RED CABBAGE RISOTTO

1.2 litres stock chicken or vegetable stock
2 tablespoons olive oil or rapeseed oil
1 large onion, peeled and finely chopped
2 cloves of garlic, peeled and finely chopped
1/2 a head red cabbage
250g Pearled Spelt
1 glass of white wine
Sea salt and black pepper
50g butter, optional
Method

Preheat oven to 180/Gas 4



Trim and joint the rabbits. Heat 2 tablespoons of oil in a shallow pan, add the rabbit pieces and bacon lardons and let them colour nicely on all sides. While the rabbit is cooking, peel and roughly chop the onions, trim and cut up the fennel making sure you use the fronds, core and chop the apples, and remove the rosemary needles from their stems and chop them.

Remove the rabbit and bacon to a plate and add the onions and fennel to the pan, letting them soften, then add the apple, allowing it to colour on all sides, adding more oil if necessary. Stir in the chopped rosemary, flour, bay leaf, salt and pepper, then the cider. Let the liquid bubble for a couple of minutes, stirring to dissolve any crusty bits from the pan then add the rabbit and the bacon back in to the pan.

Bake for 50 minutes to an hour, covered with a lid. Check the meat is tender, and then stir in the cream and the cider vinegar. The sauce should be quite sweet, but if it's too much so, add more cider vinegar. Check the seasoning, adding more salt, pepper, and cider vinegar as necessary. Serve with the barley and red cabbage risotto.


SPELT & RED CABBAGE RISOTTO

Heat the stock. In a separate pan, heat the oil, add the onions, garlic and red cabbage, and fry very slowly for about 5 minutes without colouring. When the vegetables have softened, add the spelt and turn up the heat. The spelt will now begin to lightly fry, so keep stirring it. After a minute it will look slightly translucent. Add the wine and keep stirring. Once the wine has cooked into the spelt add your first ladle of hot stock and a good pinch of salt. Turn down the heat to a simmer so the spelt doesn't cook too quickly on the outside. Keep adding ladles of stock, stirring allowing each ladleful to be absorbed before adding the next. This will take around 20-25 minutes. Carry on adding stock until the spelt is soft but with a slight bite.

Don't forget to check the seasoning carefully. If you run out of stock before the spelt is cooked, add more stock. Remove from the heat and add the butter, if using, stir well. Place a lid on the pan and allow sitting for 2 minutes, eating it as soon as possible, while the risotto retains its beautiful texture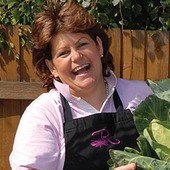 Kindly Donated by
Rachel Green
WWW.RACHEL-GREEN.CO.UK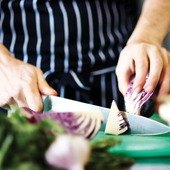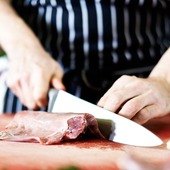 CLICK TO ENLARGE +