BUTTERNUT SQUASH AND PEARLED SPELT SALAD
Ingredients

Serves 4



4 handfuls of

Pearled Spelt


1kg butternut squash, peeled, de-seeded and cut into slices 1 to 2 cm thick
Dried chilli flakes
4 cloves garlic, bashed in their skins, halved
4 sprigs of thyme
Sea salt flakes and pepper
150ml extra virgin olive oil, plus extra for sprinkling
Juice of 2 lemons and grated zest of 1
2 x 125g balls of buffalo mozzarella
A handful of mint leaves
2 handfuls of rocket
Method

Preheat the oven to 200C.



Arrange the squash pieces in a single layer in a large roasting tin. Splash with olive oil and toss until the pieces are well coated. Sprinkle with a pinch of chilli flakes, then scatter with the bashed garlic and thyme sprigs and season well. Put in the oven and cook for 20-30 minutes, turning halfway through, until soft to the centre. Remove from the oven and leave to cool.

Tip the spelt into a saucepan of boiling water and cook for 20-30 minutes until soft to the bite. Drain in a sieve, then tip into a bowl.

Mix the lemon juice and zest with 125ml of the olive oil. Season well with salt and pepper, then add to the spelt and leave to stand for 10 minutes. Stir in most of the rocket and mint leaves, then gently fold in the pieces of squash. Divide the salad between 4 plates or bowls and tear half a mozzarella ball into pieces on top of each one. Add a few mint leaves and a splash more oil, then sprinkle with a few extra salt flakes and the tiniest pinch of dried chilli before serving.

Kindly Donated by
Lucas Hollweg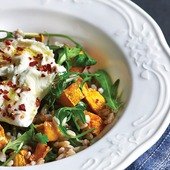 CLICK TO ENLARGE +