CHICKEN & LEEK PIE
Method


PUFF PASTRY

Mix the cold butter with the flour and salt so that the tiny squares are coated, then add the water in batches and knead very gently until just incorporated. The dough should not be smooth. Shape the dough into a rectangle about 2-3cm thick, wrap in clingfilm and chill in the fridge for 20mins or more.

When rested, take the pastry from the fridge and roll out in one direction on a floured surface into a long rectangle. Fold the bottom up two thirds and the top down one third to meet it. Fold over exactly in half like closing a book. Give the dough a 90 degree turn and repeat the process again.

Wrap in clingfilm and rest in the fridge for 20 mins or more before rolling out into a sheet or circle or any other appropriate shape for a lid. Keep the trimmings for other pastry items or for decorations.


FILLING

Remove the bones and skin from the thighs and pulse in a blender with the prunes, a little mustard, salt and pepper. When chopped enough to form into small balls, shape them and set aside.

Cut the breasts into reasonable chunks and the leeks into 2cm, or so, rounds.

Melt the butter and add the spelt flour, cook for about a minute on a low heat and slowly whisk in the chicken stock to prevent lumps. Add some mustard and chopped parsley and seasoning. A splash of sherry or other white fortified wine is also a good addition. Add the leeks to the sauce and simmer for a few minutes until starting to soften. The sauce should be reasonably thick but not gloopy.

Add the pieces of breast and the thigh dumplings to the sauce and pour into an oven proof dish to which a pastry lid can easily be attached. Lay the rolled out pastry on top and decorate if you feel the need or have the time.

Bake in a hot oven, about 180 degrees, for half an hour or so. The pastry will be flaky and golden when done.
Kindly Donated by
Sven-Hanson Britt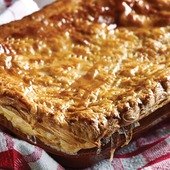 CLICK TO ENLARGE +