CHOCOLATE AND RUM SOAKED PRUNE CAKE
Ingredients

80g

Wholegrain Spelt Flour


350g pitted prunes
190g butter (room temperature)
190g fruit sugar
110g ground almonds
150g dark rum
3 large eggs
50g dark chocolate
20g cocoa powder
2 teaspoons vanilla extract
1 tablespoons runny honey
5g cinnamon
Butter and sugar for lining tin
Method

Soak the prunes in the rum and one teaspoon of vanilla extract for 24 hours. Melt the dark chocolate in a bowl over hot water. Combine all of the ingredients with the exception of the fruit sugar, eggs and honey. Beat the ingredients together until very well mixed, including adding the melted chocolate. Whisk the eggs and fruit sugar together until the mix goes pale and the sugar has dissolved. Combine the two mixes and beat with a wooden spoon until it goes pale and has a creamy consistency.

Thoroughly butter a 7" x 2.5" cake tin, then line the bottom with baking paper and butter the paper. Liberally sprinkle fruit sugar over the sides and bottom of the tin so that the butter is completely covered. Take the prunes out of the rum and squeeze them to remove any excess. Set aside the rum they have been marinading in. Cut half of the prunes in half leaving the others whole.

Place the halved prunes in the bottom of the tin, evenly distributed. Carefully put your mix on top of the prunes using a spatula to even it out. Push the remaining whole prunes into the cake mix, again, evenly distributed. Use a spatula to level the top after the whole prunes have gone in. Bake on a tray for 2 hours and 15 minutes at 140 degrees centigrade. Mix the honey with the rum from the marinade and set aside. Remove from the oven, rest for two minutes and then turn out onto a cake board, so that it is served bottom up. Leave the cake for one hour and then evenly pour the honey and rum mix over the cake. Ideally, leave the cake to rest for at least 12 hours before eating. Enjoy!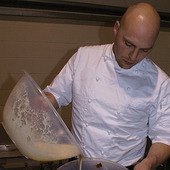 Kindly Donated by
Alex Gooch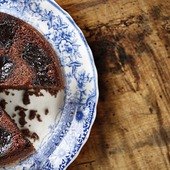 CLICK TO ENLARGE +