CHOCOLATE SPELT SABLES
Ingredients

275g White or Bakers Blend Spelt Flour
40g cocoa powder
3/4 tsp baking soda
1 1/2 tsp flaked sea salt
200g unsalted butter, room temperature
50g caster sugar
100g light brown sugar
175g dark chocolate (65-70% cocoa solids) roughly chopped
Method

Place the flour, cocoa powder, baking soda and salt together into a medium bowl and whisk to combine. Set aside until needed.

Place the butter and sugars into a large bowl and beat together until light and creamy, remember you are not making a cake so it doesn't need to be fluffy just well combined and light and creamy.

Add the flour mixture and with the mixer on low speed and mix together until the mixture is sandy. Sable is French for sandy and describes both the texture of the final cookie and this stage of the baking process. If you mix until you have uniform dough the texture of the final cookie will be a bit tougher and they won't melt in the mouth. Add the chocolate and mix to combine. Tip the mixture onto the work surface and very gently knead to bring together. Divide the dough in half and roll into logs, about 4cm inches in diameter. Wrap in Clingfilm and refrigerate. At this point I will normally freeze half of the dough ready to make cookies when the mood strikes. Chill the dough for a few hours until firm.

Preheat the oven to 180C/160C fan and line two baking trays with parchment paper. Using a thin sharp knife cut the log into cookies, about 1cm thick but don't worry if the cookies crumble just press them gently back together. Place onto the prepared baking trays and bake for 10-12 minutes or until spread and lightly set around the edges but still looks undercooked in the middle. Allow to cool on the tray for 10 minutes before transferring to a wire rack to cool completely. Then store in a sealed container. These cookies will keep perfectly for a few days but trust me they will never last that long.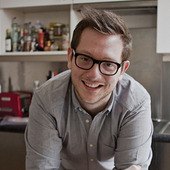 Kindly Donated by
Edd Kimber
The Boy Who Bakes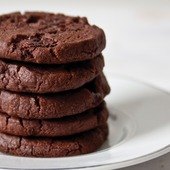 CLICK TO ENLARGE +