DROPSCONES WITH BERRIES, BRAMLEYS & LEMON THYME
Ingredients

Makes 20 or 5 portions



75g x

Wholegrain Spelt Flour


225g x

White Spelt Flour


75g x golden Caster sugar
100g x Butter, melted
25g x baking powder
2 x Whole Free range eggs, beaten
250mls x Milk
1 tsp x all spice powder
1 tbls x Vegetable oil


For the apple and berry compote:
150g mixed mixed berries (Blueberries, Blackberries, Brambles etc)
1 Bramley apple, washed, cored, peeled and cut into 1" dice
3 tbls of Golden Caster Sugar
75mls of water
2-3 tbls of good, runny honey
2-3 sprigs of Lemon Thyme


Method

Combine the flours, sugar, baking powder and Allspice. Whisk together the eggs and milk, then whisk the milk/egg mixture into the flour mix, continue whisking until smooth, once smooth whisk in the oil and melted butter. Rest the batter mix for 10-15 minutes, it should bubble and rise slightly.



To make the apple and berry compote:

Put the apple in the a saucepan with the sugar and water, bring rapidly to the boil with the lid on, simmer for 5 minutes, add the berries, remove from the heat, pour in the honey and the picked Thyme flowers and place on the lid. This should nicely steam the apple and berries without them breaking up too much.



To cook the dropscones:

Pre heat a non stick frying pan big enough to cook 4 dropscones, add a knob of butter and a little vegetable oil, once the butter has melted, drop four even spoonfuls of batter mix into the pan, far enough apart that they do not touch. Cook over a medium heat until golden (3-4 mins) then turn over to cook the other side. Once cooked, drain any excess oil off on kitchen paper and keep warm.



To serve:

Place a dropscone on the plate and top with a little of the berry mix, then top with another dropscone, more berries, then finally another dropscone. A spoonful of creme fraiche or yoghurt would finish this perfectly.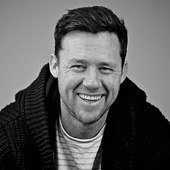 Kindly Donated by
Mark Lloyd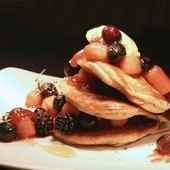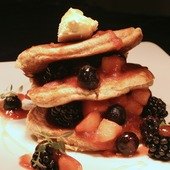 CLICK TO ENLARGE +