FISH PIE WITH SPELT CRUMBLE
Ingredients

Serves 4



100g

Wholegrain or Bakers Blend Spelt Flour


50g

Spelt Porridge/Bran Flakes


half a tsp salt
1 tsp mixed herbs
3 tbsp olive oil
70g grated cheddar
400g salmon skinned and boned
200g king prawns
50g butter
2 tbsp of lemon juice
Zest of a lemon
50g of finely chopped fresh dill
50g of finely chopped fresh coriander
1 tsp paprika
1 tsp dried cumin
1 small leek
1 carrot
1 tbsp of creme fraiche
1 garlic clove
200g spinach leaves
Method

Preparation time

15 minutes


Cooking time

25 minutes
You will need an oven dish approx 20 x 20 x 6cm

1. Preheat the oven to 200C.
2. Start by making the crumble. In a large bowl mix together the spelt flakes with the flour. Add ½ a tsp of salt, then using your hands rub in 50g of butter and 1 tbsp of olive oil until you have a moist crumble. Add more olive oil if necessary. Add 1 tbsp of chopped coriander, 1tsp of mixed herbs and half the grated cheese. Set aside.
3. Wash and finely slice the leeks. Peel and dice the carrots. In a medium sized pan bring to the boil 100ml of water. Add the leeks and carrots and simmer for 5 minutes then drain.
4. While the leeks and carrots are simmering prepare the fish. Cut the salmon into chunks. In a bowl add 1 tbsp of olive oil, 2 tbsp of creme fraiche, 2 tbsp of chopped dill, 1 tbsp of chopped coriander, 1 tsp of cumin, 1 crushed garlic clove, 2 tbsp of lemon juice and the zest and1 tsp of paprika, mix together well. Add the salmon and king prawns and coat well with the mixture. Set aside.
5. Lightly grease the oven dish. Mix the carrots and leeks with the fish then add to the oven dish. Spread the crumble evenly over the top and finish with the remaining grated cheese. Bake in the oven for 20 minutes until the top is crunchy and the salmon is cooked. Cooking times may vary.
6. When the crumble is almost ready cook the spinach. Heat 25g of butter, add the spinach and cook until the leaves have all wilted, season to taste.
7. Remove the crumble from the oven and serve with the spinach.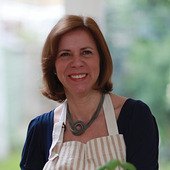 Kindly Donated by
Jessica Andersson
Jessica's Recipe Bag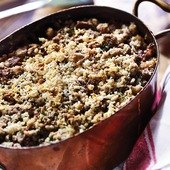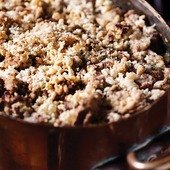 CLICK TO ENLARGE +