PARSNIP, CINNAMON & BRAN CAKE WITH ORANGE FROSTING
Ingredients

175g

White Spelt Flour


2tsp baking powder
1/2 tsp bicarbonate soda
1 tsp ground cinnamon
1tsp ground ginger
1/2 tsp mixed spice
Rind of 1 orange, grated
50g ground almonds
150g light muscovado sugar
75g Sharpham Park bran flakes, finely crushed
225g grated parsnips
30g raisins
3 free range eggs
150ml vegetable oil/rapeseed oil
2-3 tbsp milk


FROSTING

100g cream cheese
100g icing sugar
Rind of 1 orange, grated and 1 tbsp orange juice
Method

Preheat oven to 180/350/Gas 4



Grease a 23cm deep round cake tin or springform tin and line the base with baking parchment. Sift the flour, baking powder, bicarbonate of soda, cinnamon, ginger and mixed spice into a mixing bowl then stir in the almonds, sugar, bran flakes, grated parsnips, orange rind and raisins. Mix well.

Beat together the eggs, oil and milk and mix together with all of the dry ingredients, if the mixture is too stiff add more milk, it should be of a soft dropping consistency. Tip the mixture into the prepared tin and bake in the oven for approximately 40-45 minutes, or until just firm to touch.

If the cake appears to be browning too quickly turn the oven down and cover with a little greaseproof paper.

When cooked, turn out and cool on a wire rack.

For the frosting, beat together the cream cheese, icing sugar and vanilla and when the cake has cooled, spread the frosting over the top and serve.



Tips:

These can also be made individually in a large muffin tin, using 12 muffin cases. Adjust the cooking time to approximately 15 - 20 minutes.

You could use the Sharpham Park Crunchy Spelt Bran Flakes with walnuts and dates.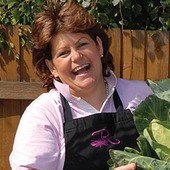 Kindly Donated by
Rachel Green
WWW.RACHEL-GREEN.CO.UK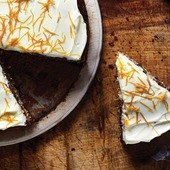 CLICK TO ENLARGE +