PEAR AND GINGER BREAKFAST MUFFINS
Ingredients

Makes 12



150g

Spelt Flour (Wholegrain or Bakers Blend)


2 tsp baking powder
1 tsp bicarbonate of soda
1 tsp ground ginger
1 tsp ground cinnamon
1/4 tsp nutmeg
150g rolled oats
225g pear puree
4 egg whites
125ml natural yoghurt
200g honey
1 firm pear
110g sultanas
Method

Pre-heat the oven to 190 degrees C/170 degrees C (fan) /Gas Mark 6.

Combine the spelt flour, oats, baking powder, bicarbonate of soda and spices in a mixing bowl. Make a well in the centre of the mixture and pour in the wet ingredients. (Baby fruit puree can be used in place of pear puree!)

Gently mix until it forms a cake-like batter. Add the sultanas and diced pear then mix again. Divide the mixture into individual cases in a muffin tin. Bake for 20-25 minutes. Leave to stand for 5 minutes before unwrapping. These muffins can be made in advance and frozen, then defrosted overnight and reheated in the morning.

They make a great on-the-go breakfast with an extra pot of natural yoghurt or a piece of fruit.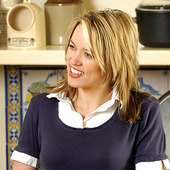 Kindly Donated by
Amanda Hamilton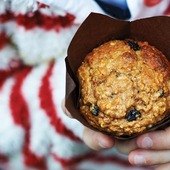 CLICK TO ENLARGE +