RED WINE, WHITE ONION & CHICKEN LIVER RISOTTO
Ingredients


200g

Pearled Spelt


4 fat cleaned chicken livers
1 ltr of hot chicken stock
1 garlic clove
2 white onions finely chopped
25g butter
150g big bodied red wine
100g Parmesan
1 large spoon of mascarpone cheese
1 tsp thyme leaves
Method

Take a hot pan, season the livers and fry in a little olive oil for 2 minutes total, remove and keep warm.

Throw the diced onion, thyme and garlic clove in a pan with a little olive oil and sweat for 20 minutes slowly until soft.

Add the drained spelt and stir about. Pour in the red wine and reduce to a syrup. Start ladling in the hot stock, one at a time until completely absorbed. Takes around 20 minutes in total.

Stir in the mascarpone, most of the Parmesan and the butter.

Season, stir in the sliced livers sprinkle over the remaining Parmesan and serve.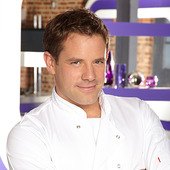 Kindly Donated by
Matt Tebbutt
WWW.THEFOXHUNTER.COM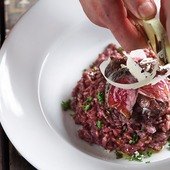 CLICK TO ENLARGE +