SCANDINAVIAN BEETROOT & PEARLED SPELT SALAD WITH GOATS CURD, WILD DILL POLLEN, HAZELNUT & RASPBERRY VINEGAR
Ingredients

Serves 4-6 as a main course or 8-10 as a side dish



250g

Pearled Spelt


1.5 kg Beetroot
150ml Raspberry Vinegar (we use Womersley Foods)
2 unwaxed Lemons
Hazelnuts for garnish
Wild Dill Pollen (you can get small vials from Global Harvest Ltd)
300g Goats curd
Seasonal salad leaves or edible flowers
Method

Start with the beetroot. Preheat the oven to 200 C. Scrub the beetroot clean and trim off any gnarly bits. Place them in a roasting tin or ceramic dish and pour in hot water about halfway up the beetroot. Season the water with a generous amount of salt and pepper and then cover the tin with aluminium foil, making sure that the foil has a tight seal around the edges of the tin. Place in the oven and depending on the size of the beetroot allow 20 minutes for small ones and 40 minutes for really large ones before removing the tin from the oven, carefully unwrapping the foil and turning all the beetroot round so they cook evenly. Repeat the covering with the foil and place back in the oven to roast for the same times given above.

In the meantime start cooking the pearled spelt. Follow the instructions on the pearled spelt packet, making sure to season the water with a spoonful of salt as you would with rice or pasta. Cook until al dente and drain off any excess moisture. Allow to cool while you finish the beetroot.

Once the beetroot's just cooked through, remove from the oven and using oven mitts make sure to gently remove the foil (a lot of steam will suddenly escape so be mindful of your hands and face being too near the steam). Allow to cool slightly and drain off the cooking liquid. Using gloves, peel the skin off the beetroot while still warm and set aside in a bowl until you finish peeling all of them. If there are any gritty bits or bits of skin still sticking to the beetroot, rinse gently under cold water.

Slice up the beetroot into quarters, place them in a medium bowl and pour the raspberry vinegar along with the juice of a lemon or two over (I like the acidic tang of a lot of lemon juice, you may not). Set aside while you prepare the remainder of the dish as the beetroot is added last so the dish doesn't turn entirely pink!

Toast the hazelnuts in a frying pan until golden and they release that hazelnut aroma. I like leaving the skins on but if you prefer, simply roll the nuts in a cloth once they've been toasted and the skin should come off. Season with a little sea salt and crush into pieces.

Assemble the salad on a large platter or two, scatter the cooked spelt and sprinkle the wild dill pollen over it, then the beetroot (reserving the raspberry vinegar to either serve separately or drizzle on top at the end) followed by seasonal leaves, bite sized morsels of goats curd and a final scattering of hazelnuts and any edible flowers if you have them. Serve immediately.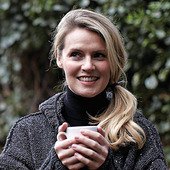 Kindly Donated by
Signe Johansen
SIGNE JOHANSEN IS AUTHOR OF SCANDILICIOUS BAKING AND, SECRETS OF SCANDINAVIAN COOKING AND THE EAT SCANDI BRUNCH & SUPPER CLUB.

Photography : Tara Fisher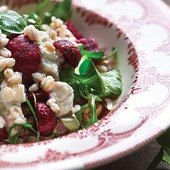 CLICK TO ENLARGE +