SCOTCH BROTH WITH SPELT
Ingredients

Serves 6



75-125g/3-4oz

Pearled Spelt


2 onions, peeled and cut into 5mm dice
250g/8oz turnips, peeled and cut into 5mm dice
250g/8oz carrots, peeled and cut into 5mm dice
1 celery stalk, diced
1 leek, white part only, thinly sliced
225g/8oz diced cooked lamb or mutton
125g/4oz dried peas,soaked in water for 4-5 hours, drained
2.3 litres/4 pints lamb or mutton
stock
85g/3oz cabbage, chopped (optional)
2 tablespoons chopped parsley
Salt and freshly ground black pepper
Method

In a large saucepan, heat all of the ingredients, except the cabbage, parsley and seasoning, until boiling.

Reduce the heat and simmer gently for 2-3 hours or until the peas and Pearled Spelt are soft.

Stir in the cabbage and parsley and cook for a further 10-12 minutes or until the cabbage is tender.

Season to taste with salt and freshly ground black pepper. Serve in gently warmed soup bowls.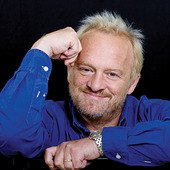 Kindly Donated by
Antony Worrall Thompson
www.awtrestaurants.com
Photography : Nick Ayliffe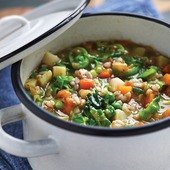 CLICK TO ENLARGE +