SPELT AND SUPER SEED CRACKERS WITH SPELT CUCUMBER & YOGHURT DIP
Ingredients


FOR THE CRACKERS:
190g Sharpham wholemeal spelt flour
70ml water
2 tsp sugar
4tbsp extra virgin rapeseed oil
80g cooked and dried spelt
50g linseeds
30g sesame seed



AND FOR THE DIP:
140g Cooked Spelt
½ English cucumber
5g Parsley
15g Mint
15g Coriander
280g Low fat yoghurt
1 clove of garlic
1 lemon, juiced
Pinch cinnamon
Pinch cayenne
Pinch paprika



Method

Put all the ingredients into a food processor and pulse till the dough has come together and the seeds have broken slightly.
Roll out the dough between 2 sheets of parchment paper till as thin as a 1p coin.
Cut into the desired shapes - we went for rectangles
Bake at 160c for 8 minutes and allow to cool before eating.
Combine all ingredients, except spelt and cucumber and blend in a food processor
Chop the cucumber into 2mm dice

Mix spelt, cucumber and blended mix together in a bowl, season to taste and enjoy with the crackers.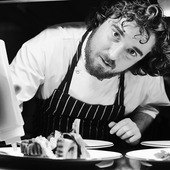 Kindly Donated by
Gillan Kingstree
CLICK TO ENLARGE +