SPELT BLINI
Ingredients

1 oz yeast
1 oz sugar
1pt warm milk
10 oz white flour
6 oz spelt flour
2 eggs yolks
3 egg whites

Method

Mix the yeast, sugar, milk, flours and egg yolk together in a bowl to make a paste.
Whisk the egg whites in a separate bowl until they form stiff peaks, then fold them into the yeast mixture. Cover the bowl and set aside at room temperature for 20 minutes.
Heat a frying pan until medium hot; add a little vegetable oil and small spoonfuls of the Bellini mixture.
Cook the Bellini on each side until golden-brown then remove and drain onto kitchen paper. Repeat with the remaining batter and keep the Bellini warm until ready to serve.
Top with your choice of seasonal ingredients.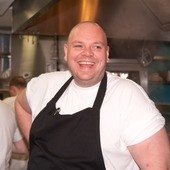 Kindly Donated by
Tom Kerridge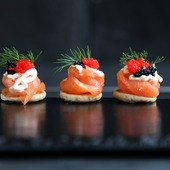 CLICK TO ENLARGE +