SPELT BREAD WITH CHORIZO & HAM
Method

Mix the flour, baking powder, yeast and salt in a large bowl. Make a well in the centre, then add the water and mix well. Tip the dough out on to a lightly floured work surface and knead it lightly for 1-2 minutes until the dough is smooth. Do not knead it too long, though, as the gluten in spelt is more fragile than that in wheat flour. Place the dough in a lightly oiled bowl, cover with oiled clingfilm or a clean tea towel and leave to rise for 1 hour until it has doubled in size.

Preheat the oven to 180°C/Fan 160°C/Gas 4. Knock back the dough, then place it on a lightly floured surface and roll out to make a rectangle measuring about 20 x 30cm. Cover the surface of the dough with the torn pieces of chorizo and ham.

Starting from the shorter (20cm) side of the rectangle, roll up the dough, like a swiss roll. Place the roll on a floured baking sheet, join side down. Cook for 45-50 minutes until the loaf is golden brown and sounds hollow when tapped underneath. Cool on a wire rack.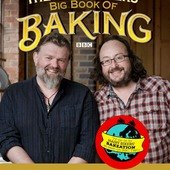 Kindly Donated by
Hairy Bikers
CLICK TO ENLARGE +