SPELT, PARTRIDGE & DRIED PEARS
Ingredients

Serves 2
2 oven-ready partridges
About 25g butter, softened
A few sprigs of thyme
Sea salt and freshly ground black pepper


FOR THE SPELT MIX:
150g

Pearled Spelt

, rinsed
1 tablespoon rapeseed, sunflower or olive oil
1 onion, finely chopped
1 garlic clove, finely chopped
About 600ml chicken, game or vegetable stock (or use plain water)
50g dried pears, roughly chopped
Grated zest of 1 lemon, plus the juice of half a lemon
Sea salt and freshly ground black pepper
Method

Preheat the oven to 200°C/Gas6.



For the spelt mix, heat the oil in a large saucepan over a medium-low heat. Add the onion and garlic and fry gently for about 10 minutes until soft. Add the spelt and stir well. Pour in 450ml stock or water, bring to the boil, then lower the heat. Simmer, uncovered, until the grain is tender and most of the liquid is absorbed - about 20 minutes for pearled spelt. If it looks in danger of boiling dry, top up with a little boiling water. Take off the heat and stir in the dried pears, lemon zest and juice, and plenty of salt and pepper. Spread the mixture over the base of a smallish oven dish. Smear the partridges with the butter and season well with salt and pepper.

Push the thyme sprigs inside the birds as best you can - it's fine if some of it sticks out! Put the partridges into the oven dish, nestling them gently in the hot grain mix. Trickle 125ml hot stock or water over the spelt. Roast in the oven for 30-35 minutes or until the partridges are cooked. To check, insert a skewer into the thickest part - the juices should run clear. Leave to rest in a warm place for 10-15 minutes. Tip up the partridges so any juices inside them run into the spelt. Place a bird on each warm serving plate with spoonfuls of the fruity grains. Serve with shredded greens or broccoli.

Swaps: Pretty much any dried fruit will work in place of pears. Try roughly chopped prunes or dried apricots, or raisins or sultanas.
Another take: Use a whole chicken instead of the partridges to serve 4, and double up the spelt mix. Smear butter over the chicken, season and place in the oven dish. Roast the bird alone at 220°C/Gas 7 for 20 minutes. Now spoon the hot grain mix around it, trickle over the stock or water and roast for a further 40 minutes at 180°C/Gas 4. Turn off the oven and leave the tray inside with the door ajar for 20 minutes. Now check that the chicken is cooked with a skewer - the juices should run clear.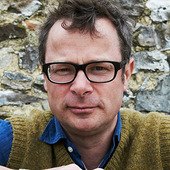 Kindly Donated by
Hugh Fearnley-Whittingstall
Three Good Things

Photography : Simon Wheeler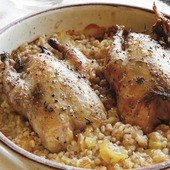 CLICK TO ENLARGE +