SPELT, PEPPERS & RAISINS
Ingredients

Serves 3 - 4

150g

Pearled Spelt


100g raisins
Juice of 2 oranges, or 100ml apple juice
2 red, yellow or orange peppers(or a combination)
3 tablespoons extra virgin olive oil
2 teaspoons cider vinegar
1/4 garlic clove, crushed with a pinch of salt
Sea salt and freshly ground black pepper
Method

Put the raisins and orange or apple juice in a small pan over a medium heat. Bring almost to the boil, then take off the heat and leave to cool and soak for at least an hour.

Meanwhile, preheat the grill to high. Place the peppers on the grill rack and grill, turning often, until black and blistered all over. Put them into a bowl and cover with cling film (the trapped steam will help to lift the skins).

When the peppers are cool enough to handle, pull off the stalks and, if possible, tip out the juices into a bowl. Peel the skin from the peppers, then cut them open and remove all the seeds and membranes. Cut the flesh into small pieces.

Rinse the spelt well, tip it into a saucepan and cover with lots of cold water. Add a pinch of salt. Bring to the boil, then reduce the heat and simmer for about 20 - 25 minutes, until tender.

Drain the raisins,tipping any remaining juice into a bowl. Add the extra virgin olive oil, cider vinegar, garlic and some salt and pepper to the juice to make a dressing. If you have collected any juices from the roasted peppers, add these too. Whisk or stir well to combine.

Drain the cooked spelt and toss it immediately with the dressing, raisins and red pepper pieces. Mix well and leave to cool to room temperature.Taste and add more salt and pepper if necessary before serving.



Plus one

-A good sprinkling of flat-leaf parsley whole or coarsely chopped leaves adds colour and freshness to this lovely salad.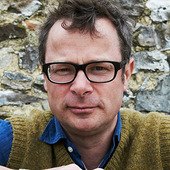 Kindly Donated by
Hugh Fearnley-Whittingstall
Three Good Things

Photography : Simon Wheeler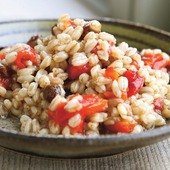 CLICK TO ENLARGE +