SPELT RISOTTO WITH CEPES & WALNUTS
Ingredients

MAIN MEAL
400g

Pearled Spelt

, washed
2 Carrots peeled and split in half
2 Onions 1/4'd
3 Shallots peeled and 1/4'd
6 Cloves garlic split
6g Sprigs thyme
20g parsley stalks
3 bay leaves.


BROWN BUTTER
500g Butter diced
15g thyme
4 bayleaves
8 cloves garlic bashed


TO FINISH THE Spelt

400g Shallots peeled and finely diced
2g Chopped parsley
2g cepe powder
2g chopped chervil
30g Creme fraiche
30g grated Parmesan
50ml truffle oil
2g salt + 8 turns of milled pepper
50g Butter
50ml lemon juice


CEPES
Picked thyme leaves
Maldon salt
Cepe dressing
Milled pepper
Olive oil
Butter


WALNUT OIL
200g toasted walnuts
250ml olive oil


BUTTERNUT SAGE AND HONEY SAUCE
400g butternut squash, peeled and cut into 1 cm cubes
4g fresh sage, finely chopped
4g Sprigs Rosemary
50g unsalted butter
8g sea salt
60g hone
150ml single cream
500ml chicken stock
100ml lemon juice


CEPE DRESSING
IF YOU 1/4 THIS RECIPE OR USE PORTABELLO MUSHROOMS INSTEAD
1 Kilo Frozen cepes defrosted and sliced thinly and dried
800g Banana Shallots thinly sliced
24 cloves garlic thinly sliced
60g thyme
750ml Maderia
750ml Balsamic vinegar
40g course sea salt
30 turns of milled pepper
3 litres of olive oil


ASSEMBLY
3 sorrel leaves stalk cut out
Pearled Spelt Risotto
Cooked cepes
Cepe dressing
Toasted walnuts
Pumpkin sauce
Brown butter
Method

BROWN BUTTER

: Place the butter onto heat with the garlic and turn to a nut brown, then add all the herbs and leave to infuse for 8 hrs in a warm place, then pass keeping all the sediment. Leave in a warm place.



TO FINISH THE SPELT

: Place a small pan onto a medium heat adding the butter, add the chopped shallots and cook for a couple of minutes till just tender with the seasoning, add the cooked pearled spelt and 300ml of the cooking liquor and reduce by 2/3rds. Add the creme fraiche to the spelt with the cepe powder, grated Parmesan, lemon juice and the fresh herbs, check the seasoning.



CEPES

: These are thinly sliced then cooked in a hot pan in olive oil then butter, add seasoning, then the thyme leaves at the end, then drain in a colander, then once they are all cooked then mix enough dressing through the cepes to keep them moist.



TOASTED WALNUTS

: Place the walnuts into a oven at 180c and toast till golden brown then chop roughly, this is used for garnish.



WALNUT OIL

: Toast the walnuts well then blitz with the oil and puree till smooth.



BUTTERNUT SAGE AND HONEY SAUCE

: Heat a pan on a low heat then add the butter so it just melts, add the squash along with the sage, rosemary, sea salt and honey. Cover with a lid so the vegetables sweat and cook for 10-12 mins on a low heat, stir the vegetables now and again so they don't brown. Add the stock and cream and bring the soup to a simmer and simmer for 5 minutes. Turn off the heat, remove the rosemary and sage then ladle the soup in to the blender jug only fill it 1/2 full then blend the soup for 2-3 minute still smooth, pass through a fine sieve. MAKES 1.2 LITRES.



CEPE DRESSING

: Turn the bratt pan onto full and add 400ml of olive oil, once hot add the cepes with 1/2 the salt and pepper, cook till golden and caramelised. After approx 15 minutes, add the shallots, garlic and thyme. Cook this again till golden and caramelised, with the remaining salt and pepper. Add the madeira next and reduce to approx 200ml then add the balsamic vinegar. Reduce again to 200ml then add the remaining olive oil and bring to a simmer, cook at a simmer for ten minutes stirring now and again. Place into a container to cool then into the fridge for a week so the flavour improves. Stir this every other day then puree it all in a kitchen blender till smooth and pass through a fine sieve.



ASSEMBLY

: Place the raw sorrel leaves into the bottom of the plate and then the risotto on top around the sauce, and on top the cepes, walnuts and brown butter.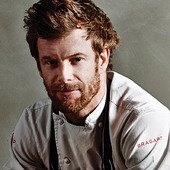 Kindly Donated by
Tom Aikens
WWW.TOMAIKENS.CO.UK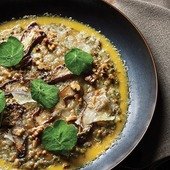 CLICK TO ENLARGE +