SPELT WITH POMEGRANATE, ALMONDS, FETA AND MINT
Ingredients

Serves 4 - 6



150g

Pearled Spelt


1tbsp olive oil
2tsp lime juice
1tbsp pomegranate molasses (or extra lime juice) 50g blanched almonds, toasted in a hot pan until golden.
A small bunch of mint
Arils from half a pomegranate - about a teacupful 100g feta cheese A head of red chicory
Method

Put the spelt in a large pan of water with a fat pinch of salt. Bring to the boil and cook for 10 minutes or so, until tender but with still a little bite.

Drain well in a sieve but don't run it under a cold tap. Instead, tip it into a bowl and add the olive oil, 2tsp of lime juice, and pomegranate molasses, plus a pinch of salt. Stir well, cover with a plate and leave to cool.

Heat a frying pan and add the almonds. Cook over a medium heat, turning often, until golden on both sides. Watch them carefully so they don't burn! Tip on to a plate to cool, then cut each into three or so with a sharp knife (a heavy chef's knife is better than a serrated knife here). Try to cut the almonds lengthways into long slivers, which looks better.

Strip the leaves from the mint and chop the bigger leaves roughly. Mix the mint, pomegranate and almonds into the spelt. Crumble the feta and add that too. Taste the mix: it may need a little more olive oil or even a splash of water to loosen it a little, plus salt and pepper.

Separate the leaves of chicory and spread them on a plate. Scatter over the spelt mixture. Serve as a first course or with grilled lamb.
Kindly Donated by
Xanthe Clay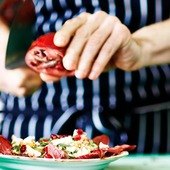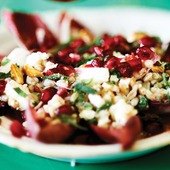 CLICK TO ENLARGE +